The new Hells Kitchen opened in downtown Minneapolis on Monday and I met Katy there for a drink before heading over to First-Avenue to see Broken Social Scene.
Hells Kitchen now occupies the space recently vacated by Rossi's on 9th and Marquet, and without playing favorites at all I think it's safe to say that they've done a much better job decorating the place than Rossi's ever did. As you follow the main staircase down in to hell the first thing you see is a giant chanelier adorned with a huge collection of knives, all point straight down right at you. This pretty much sums up the decor in the lounge-bar which was my favorite of the many rooms.
One of my favorite decorative pieces is in the men's bathroom. The walls are adorned with your the usual old-timey photos of men, women, and children, these ones however come with a test.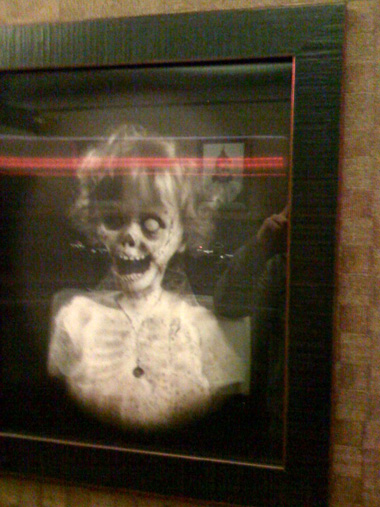 The photos are all holographic. From one angle you see a cute portrait of a young child, walk a few feet to the side and you see something completely different.
The best part is the placement. While standing at the urinal you can catch a glimpse of the sinister side of these photos in the mirror over the sinks. It's eery. Turn around though to get a better look and the sinister image is gone. Deceptive.
I can't wait to walk in some evening and see everyone standing at the urinal swaying back and forth trying to figure out what in Hell is going on.